Autobooks Training Resources for Jack Henry
Become a Small Business Hero
We provide the resources you need to earn your cape.
Training Plan and Resources
Step 1
Staff Awareness
---
Getting all of your staff on the same page requires great communication. We'll help you make that easier with this announcement email copy. Whether you use our words as inspiration or as the total source material, this step is critical to training your teams.
Step 2
Customer Service
---
Customer Support is the backbone of product success! Your Support team should be trained prior to going live with our online payment features.
Step 3
All Staff Training
---
Arm your staff with the information they need to answer questions and promote these exciting features.
Step 4
Sales Staff Training
---
Lastly, help your Sales drivers become Small Business Super Heroes!
Send an invoice
Give your customer that owns a small business the ability to easily send professional invoices and get paid electronically
Now your customers can send their customers a professional online invoice right from online banking.
For added flexibility, the customer can easily set up recurring invoices, payment/past due reminders, and additional sales tax rates.
To learn more, click here.
Accept a Payment
Offer customers that own a small business or manage a nonprofit a way to accept online or in-app payments
Customers are provided with a unique link to their own secure payment form — which can be shared with paying customers or potential donors. Payment links can be shared via text or email, within social media, or even pasted into a web page.
The payment form can also be accessed directly in app — making it fast and convenient to accept a payment on the spot.
Download the Accept a Payment doc or download our video using the Share icon in the video toolbar.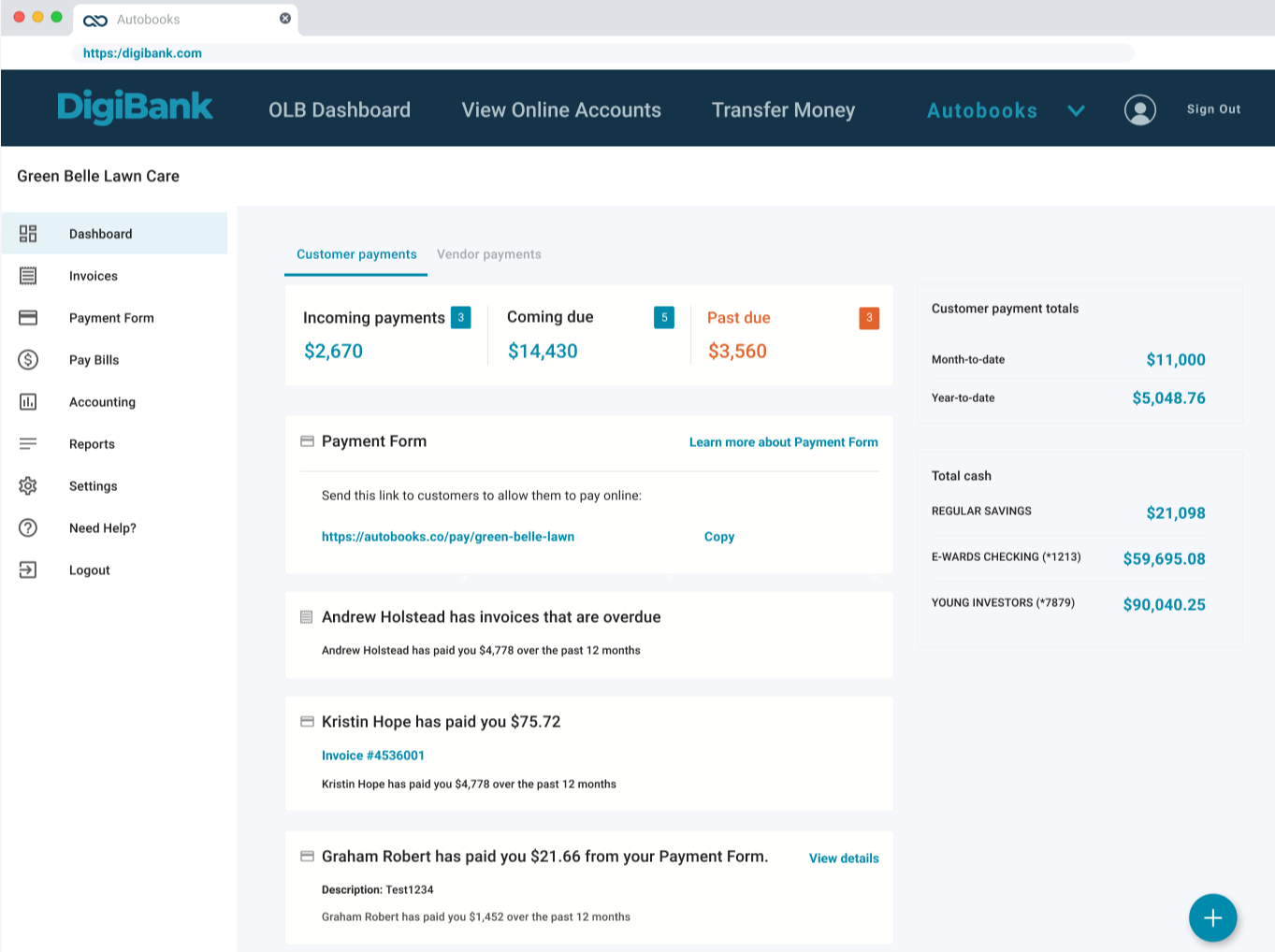 Autobooks Product Suite
A complete small business solution, inside your online and mobile banking
Autobooks is so much more than just payments and invoicing. The full suite — available with digital banking — also includes financial reporting, payables, and accounting functionality.
Empower your small business customers to fully manage their business directly from your existing digital banking channels.
Customer Enrollment
Signing up is fast and simple
Enrolling in Autobooks technology is easy, and is completed in about five minutes!
Marketing materials for you to share
Marketing Flyers
Making your customers aware of our new features is the key to driving adoption. Download our flyers to help promote adoption and increase deposit activity for your team.
Customer Email Templates
We've created email copy to help you promote our features to your customers. Simply click on the links, and copy the text to paste it into an email to help drive awareness with your customers and start the conversation.
Feature Enrollment Guide
Are your customers ready to sign up and give the new features a try?
Download this guide to help them navigate enrollment.