Autobooks' embedded features, inside NCR digital banking.
Find everything you need to successfully launch and maintain your Autobooks program right here, on this page. To get started, just follow the four steps below.
Get started now Access Resources
About Autobooks
---
Today, small business owners and independent workers are turning to third-party providers for a variety of financial needs, which most often makes their workflows harder to manage and more expensive to maintain. That's why Autobooks is on a mission to simplify digital banking and bring the customers back where they belong: with their financial institutions.
We make it easy for financial institutions like yours to access and offer market-ready tools built for small businesses — right inside your NCR-powered digital banking channel.
Accept digital payments, including all major credit cards.
Send professional invoices, with the ability to customize them.
Get paid directly into their account, where they can access funds easily.
Manage cash flow, automate reporting and bookkeeping, and more.
Four steps to a successful program
---
Offering integrated invoicing and online payment acceptance to your customers is a straightforward affair — thanks to the resources found here. Just follow the four steps below to ensure your Autobooks program is successful.

step 1
Prepare to go live
Request access
Ensure your financial institution has allowed data sharing through your partnership with NCR.
Fill out the operational form so we know who to contact to best serve your team moving forward. This includes assigning your first team member with admin access to the Autobooks Hub, a tool that provides reporting to best serve your customers and successfully manage your program.
Learn about the features & tools
Train your team
Access the pre-built training resources we offer: webinars, reference materials, internal go-to-market collateral, and more.
Send your team to attend a live training we facilitate, or if you prefer to train your team internally, we provide all the resources to download and use.
step 2
Configure & test
NCR embedded and automated the technology to launch, so moving forward will be simple for your financial institution.
step 3
Announce your launch
Market the new tool to your customers
Once you're live, marketing to your small business customers is key to drive feature awareness, engagement, and activation. We built free, proven marketing materials for your financial institution to use.
Prepare a marketing campaign to announce the availability of Autobooks to your customers so they know about their new digital banking tool — and how to use it.
Plan for ongoing campaigns
Financial institutions that see the best results execute ongoing marketing campaigns to drive awareness.
That's why we've made it easy for you to download kits and resources that can be leveraged based on your specific needs. Feel free to follow our yearly marketing calendar or simply create your own campaign.
step 4
Manage your program
Register/join the waitlist for our launch workshop: How to Launch or Accelerate Autobooks at Your Institution. In the three live, one-hour sessions, all attendees will receive ongoing support and resources — including scheduled office hours, a project plan and checklists, promotional marketing materials, and more.
Log into the Autobooks Hub regularly to monitor the activity of your program. This allows you to measure success, identify new targets, and fine tune how you're talking to your small business customers that will benefit from online payment and digital invoice functions.
Find answers to your questions in the Partner Success Center.
Coming soon for NCR financial institutions
Tap to Pay on iPhone
---
Be one of the first financial institutions in the country to offer Tap to Pay on iPhone.

With Tap to Pay on iPhone and Autobooks, small business customers can accept in‑person, contactless payments right on their iPhone — directly inside your mobile banking app. No extra terminals or hardware needed.

Tap to Pay on iPhone is an add-on module to the Autobooks product suite. If you would like more information about enabling Tap to Pay on iPhone for your customers, learn more and sign up now.
Tap into a new way to better serve and monetize small business relationships.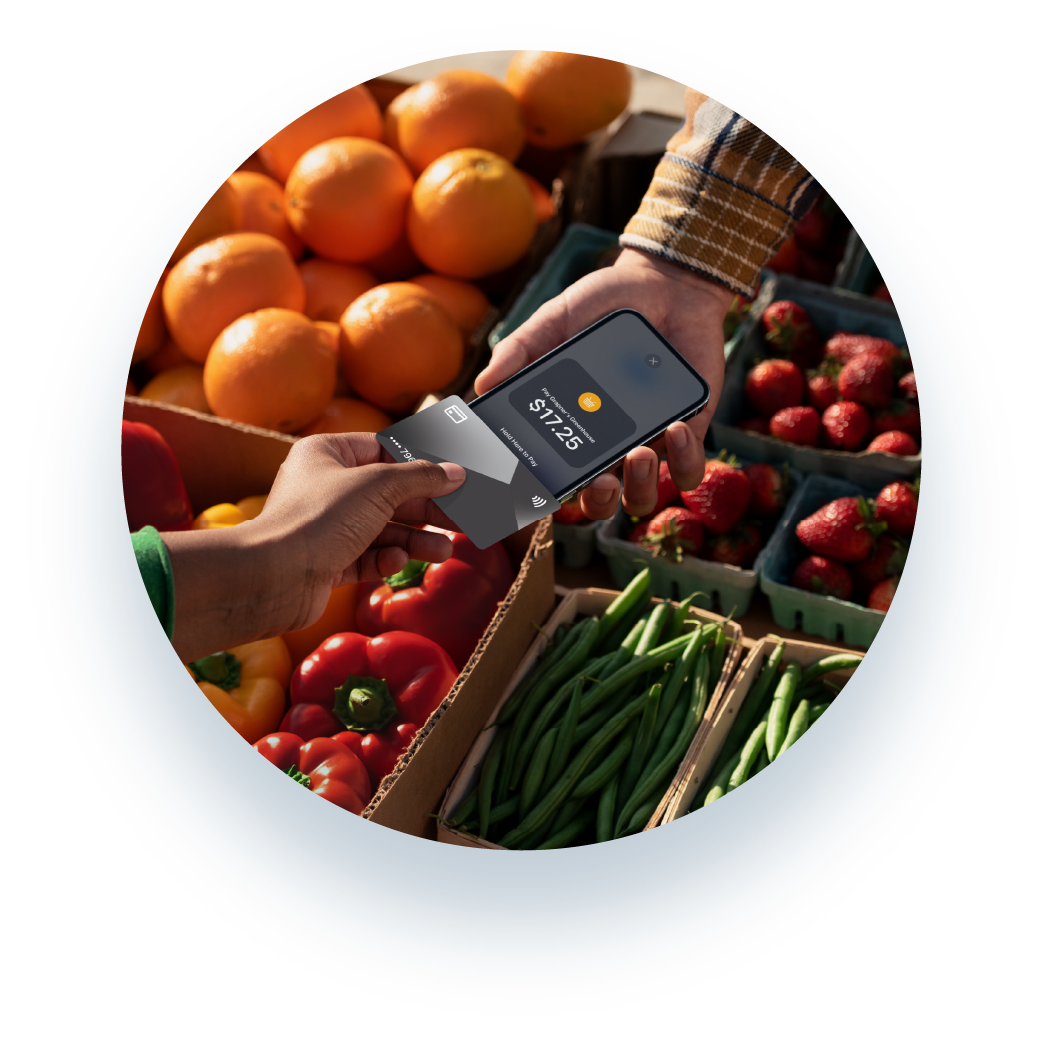 Get started with
Tap to Pay on iPhone
---
Tap to Pay on iPhone works seamlessly with Autobooks, a digital payment acceptance solution already integrated within the NCR digital banking platform.
Once your mobile banking app is enabled with Tap to Pay on iPhone, your customers can start accepting contactless, in-person payments right on their iPhone.
Learn more about the NCR partnership.