Digital Payment Acceptance
The capability to s

ay yes to customers

when they're

ready to pay

.
Accept card payments or donations, anytime. Online, in-app, or over the phone.
Autobooks and your financial institution, working together to help you get paid.
---
Managing a small business can be overwhelming. When you accept digital payments through your financial institution, funds go into one place where they're always easy to track: your checking account.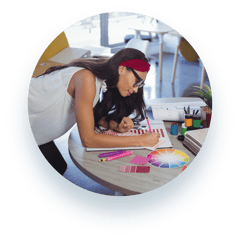 Get paid the way that works for your business.
Flexibility matters. Take a payment in-person or over the phone, or share a link via text or QR code. It's up to you, and how you do business on any given day.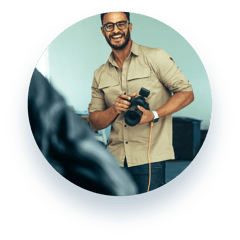 Customer payments don't belong in a separate app.
Accept payments directly into your account — in the same place you take care of your business banking. And never worry about forgetting those funds in a virtual wallet.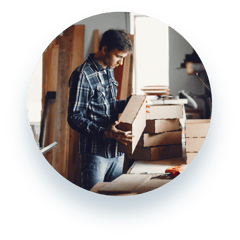 Processing fees should be easy to understand.
Knowing up front what you will pay to accept payments from customers is important. No matter what card your customer uses, the processing fees are the same.
Getting started with your Payment Link
---
How it works
When you're moving fast and just need to get paid (but don't need to send an invoice), the Autobooks Payment Link is a quick, professional, no-frills way to take payment.
When you make it easy for customers to pay,

you get paid faster.
Take a customer payment on the spot
—

just enter the payment details into your unique Payment Link inside online or mobile banking.
Prefer to have a customer pay from their own device? Text or email a secure payment link to your Payment Link, where they can complete the transaction themselves.
You can even
access a QR code that links directly to your Payment Link
. Display it anywhere you'd like to accept payments (stickers, pamphlets, business cards — anywhere!).
Funds go directly into your
checking
account and are usually deposited within two business days.
They're never tied up or held by another platform

.
Set your business up for success by making it easy for customers to pay.
Autobooks offers a simple and trackable way to get paid — no matter if you're starting out or already have a system in place.
Accept payments directly inside online and mobile banking.
---
Easily take a card or ACH payment over the phone or on the spot. Just click Accept a Payment inside online or mobile banking to access your Autobooks Payment Link.
Share a secure link to accept payments online.
---
When you enroll in Autobooks, you're assigned a unique URL to your Autobooks Payment Link. This payment link can be shared by text (SMS) and email, or added to any web page.
Display a QR code or include it on printed materials.
---
It's hard to beat the convenience of a QR Code, especially at in-person events with multiple customers. Download your unique QR code and reuse it anywhere you need to get paid.
Use the free Autobooks app for added convenience.
---
Get paid on virtually any device, anywhere you go. Download the free Autobooks app, via the App Store or Google Play, to access your unique payment form on the spot.
Frequently asked questions
---
How does the integration between Autobooks and my financial institution work?

Autobooks is built to be part of your everyday digital banking experience. That means that when you log into your account, the payment acceptance features powered by Autobooks will be available from the main dashboard or navigation, like bill pay and mobile deposit are today.
How do I get started with accepting card payments from my customers?

After opening your checking account, you can enroll in Autobooks in minutes inside online or mobile banking. For most users, that means you can just click Accept a payment or Send an invoice on the main banking dashboard.
How can I get paid online without sending an invoice?

You can easily accept payments on the spot directly inside online or mobile banking or through the free Autobooks app. You can also share a secure link to your Autobooks payment form everywhere you communicate with customers — via text message, email, your website and more.
Can I link to the Payment form from my website?

Yes. Just add your unique, secure Payment Link to your web page or social media profile. Make it a button for added prominence. You can even adjust the wording on your form to instead show donations or contributions.
Can I also use a QR code to get paid?

QR codes are ideal for in-person events where you plan to meet with multiple customers or donors. Some examples are fundraisers, community gatherings, and farmers' markets. Simply download your QR code and print from your computer. Then be sure to display your QR code prominently. When customers ask to pay, you can point to your QR code. Learn more about using QR codes.
How much do you charge to accept online payments?

When you accept a card not present payment, you will incur a 3.49% transaction fee. This fee is competitive when compared to online card-not-present solutions offered in market. For ACH-based payments, you will incur a 1% transaction fee. This fee is competitive when compared to online card-not-present solutions offered in market.

*These are typical rates, but may vary based on the partnering financial institution. Please contact your bank or credit union to learn more.
See

how else Autobooks can help you manage your cash flow.